Give your earlobes a break by getting the best computer speakers. Although an argument can be made for the best gaming headsets, which come with their own set of benefits, you're not doing your ears any favor by wearing them for too long. Computer speakers can deliver almost the same level of immersive experience while also allowing your hearing organs to breathe a little.
Of course, don't just go out and get the first one you find that's within your budget. While lesser quality products will deliver passable audio, it's only the best computer speakers that can really deliver that level of immersion needed to bring those games, movies, and music to life. You must, therefore, consider sound quality, soundstage, sound imaging, and feature sets when choosing, especially if you plan on using it for gaming and media consumption. 
Elevate your digital life by making a sound investment. The best computer speakers may seem secondary to getting the best graphics card or the best monitors, they're just as integral to your PC setup if you want to get the most out of your experience. Here are our top picks.
Best computer speakers at a glance
Audioengine A2+
Logitech Z407 Bluetooth Computer Speakers
Logitech G560
Razer Nommo Pro
Harman Kardon Soundsticks III
Edifier Luna E
Creative T100
Klipsch ProMedia 2.1 THX
Edifier M3200 2.1 Multimedia Audio Speaker System
Creative Pebble Plus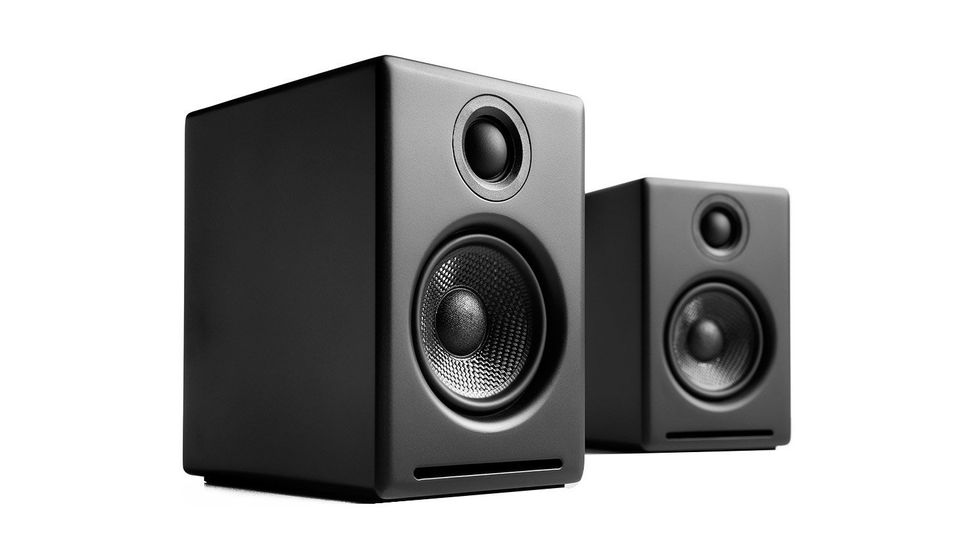 While the Audioengine A2+ arrived on the scene four years back, they are still conceivably among the best computer speakers on the market. These slick-looking speakers will function with your PC's USB port for uncompressed audio and amazing sound quality with its built-in DAC. The Audioengine A2+ comes sans subwoofer. However, if you really need that deep bass for extra rumble, that's hardly a deal breaker: mostly because there is an RCA output, so it's simple to connect an external woofer, which Audioengine also sells separately.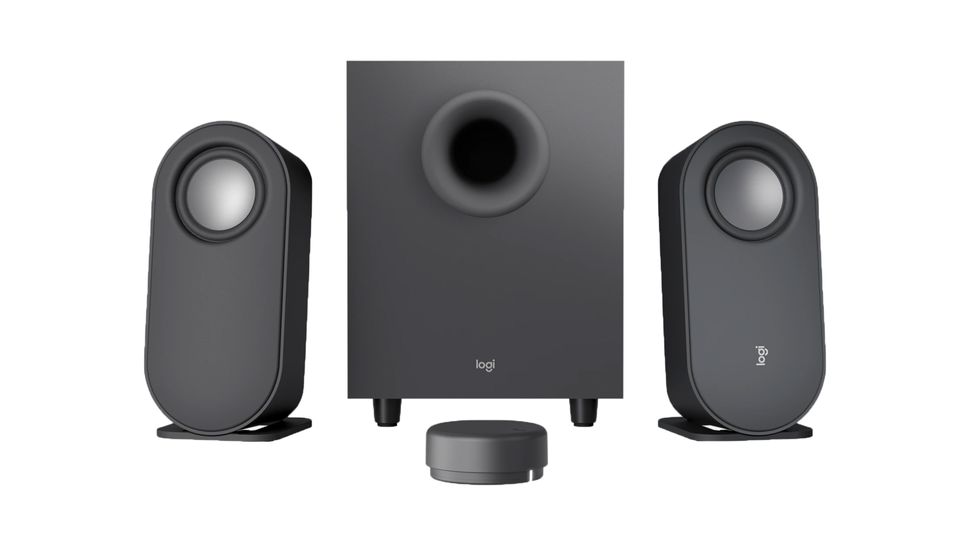 The Logitech Z407 offers great value in an affordable and appealing package. These minimalist, capsule-shaped speakers deliver great sound quality and a decent amount of volume while offering wireless connectivity, two physical input options, and a versatile design. That subwoofer is surprisingly powerful for its size as well, producing a good amount of rumble for those intense game and movie moments. Finally, that wireless control, while confusing at first, is a nifty addition that adds convenience to its use. If you think that computer speakers are becoming obsolete, these will certainly change your mind.
Read the full review: Logitech Z407 Bluetooth Computer Speakers with Subwoofer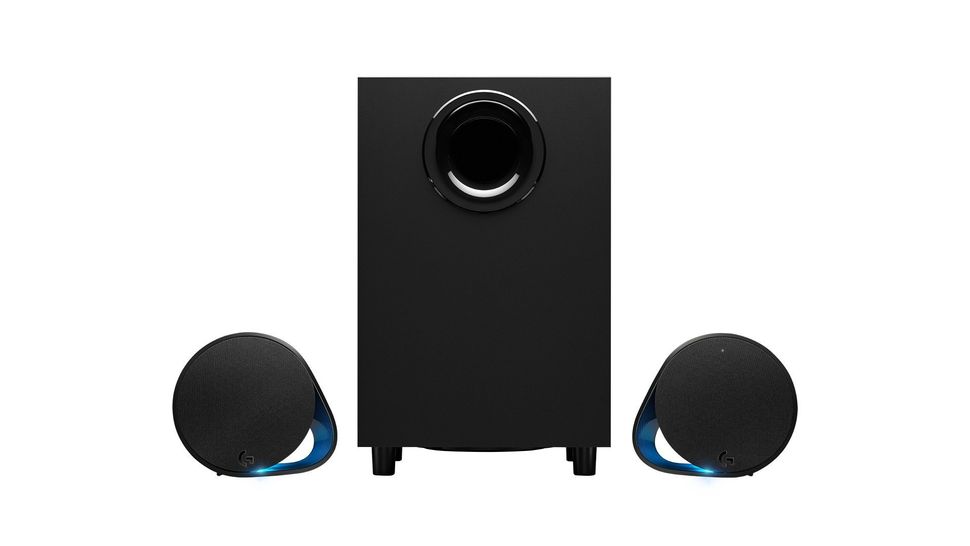 When it comes to computer accessories, Logitech is a household name. However, the G560 takes the company's speaker prowess up a level. These are the first Logitech computer speakers created specifically for gaming, and the manufacturer's hard work has more than paid off. The Logitech G560 speakers are, without a doubt, one of the best computer speakers for gaming. Not only do they have RGB lighting – a must for gaming peripherals in 2021 – but through Logitech's software, the multi-colored illumination can adjust to any kind of content you consume for a more brilliant, not to mention mesmerizing, experience.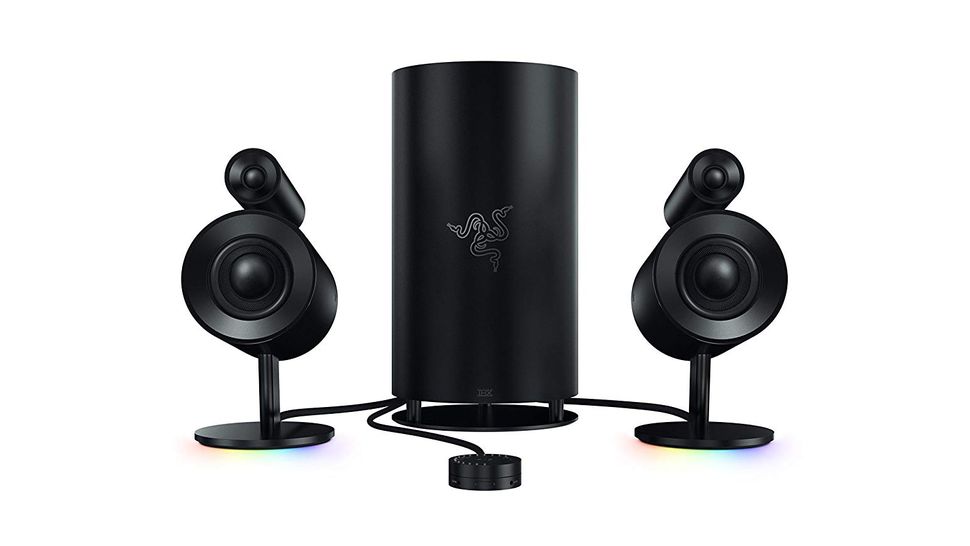 The Razer Nommo Pro may have an amusing name and a uniquely funky look, but make no mistake, these are a quality set of speakers that must be taken very seriously, and not only because of its hefty price. Try to combat the urge to run in the opposite direction of that $500 price tag, the Razer Nommo Pro has a lot to offer and is definitely a sound investment. There's the thundering down-firing subwoofer that'll blow you away, and then there's the Razer Chroma feature, making these speakers look just as great as they sound. There are definitely more reasonably priced computer speakers out there, but with this level of quality, the Razer Nommo Pro is worth the cost of entry.
This product is only available in the US as of this writing. UK and Australian readers: check out a fine alternative in the Audioengine A2+.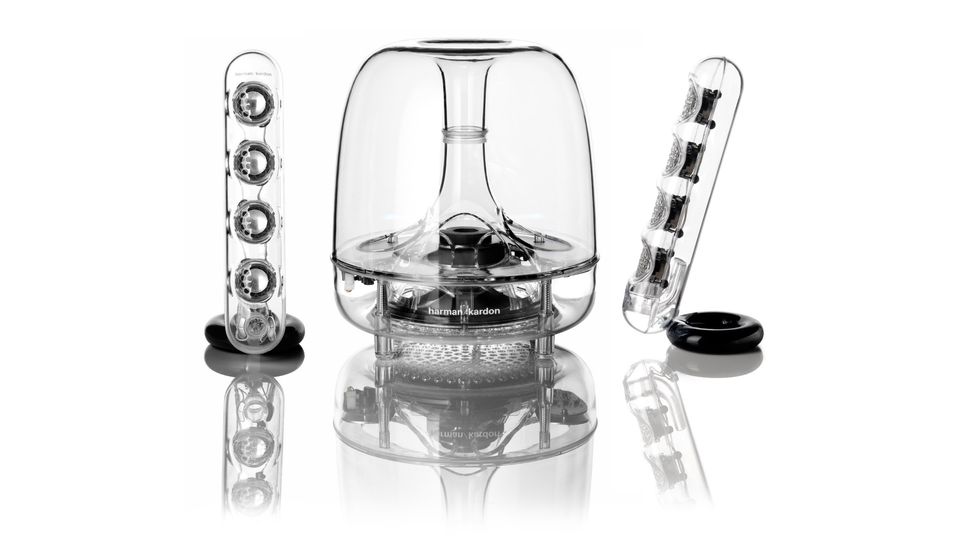 Sure, the Harmon Kardon Soundsticks III may look like a bloom of jellyfish. These translucent computer speakers look more like a modern art installation protesting rising ocean temperatures, but you'll appreciate them once you hit that power button. These are certainly an excellent speaker system that belong on our best computer speakers list. This speaker and sub combo features booming bass, thanks to its woofer, as well as detailed highs. Finally, you get that amazing sound at a good price, making it ideal for music fans with a mid-range budget.
This product is only available in the US and UK at the time of this writing. Australian readers: check out a fine alternative in the Edifier E25 Luna Eclipse.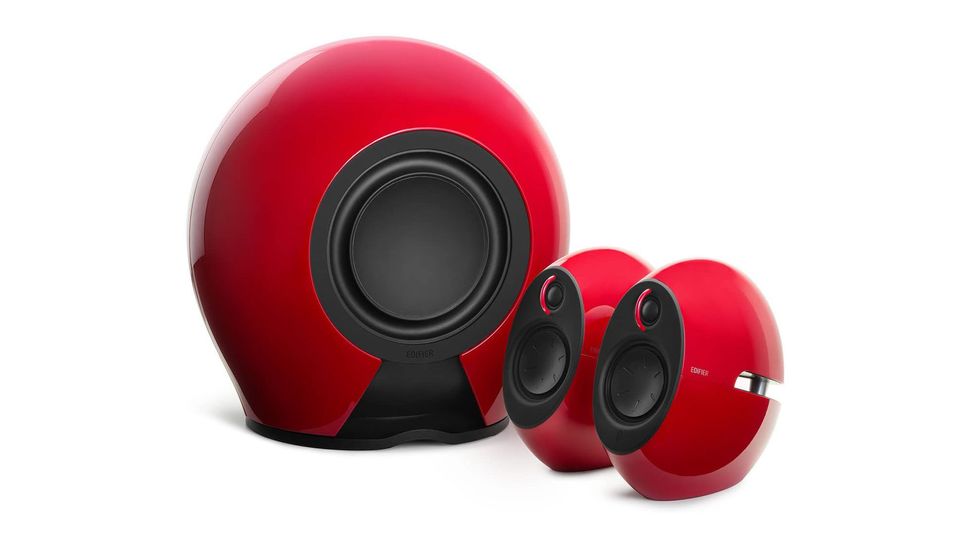 The Edifier E25 Luna Eclipse is already a staggering speaker setup that not only has an enticing design, but also sounds terrific. The Luna, which comes in red, white and black colors, offers a powerful but well-controlled bass, as well as great balance with sharp mids and good stereo separation. It even includes a nifty little remote control so you don't have to get up if you're feeling lazy. Add the 5.8G subwoofer, connected wirelessly at a 5.8GHz radio frequency, and you've got yourself an impressive 2.1 system that's among the best computer speakers in 2021.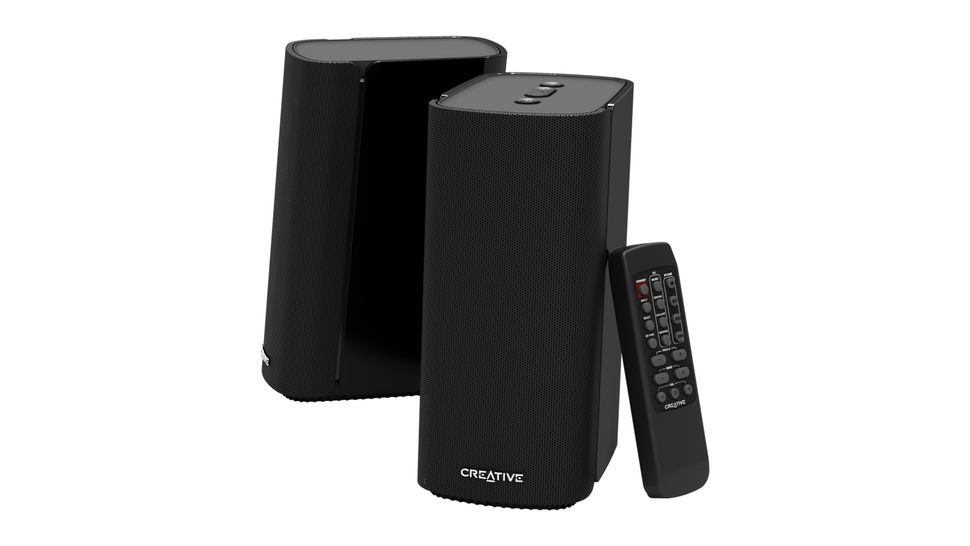 The Creative T100 proves that you don't need to have a lot of space or spend a lot of money for great sound. This stereo setup may not blow you away with rumbling bass or surround sound, but it's great sounding and offers a few connectivity options. That's impressive considering its compact design and affordable price. And, it's terrific for music-listening, movie-watching, and even gaming – as long as you're not really looking for a deeply immersive experience. 
Read the full review: Creative T100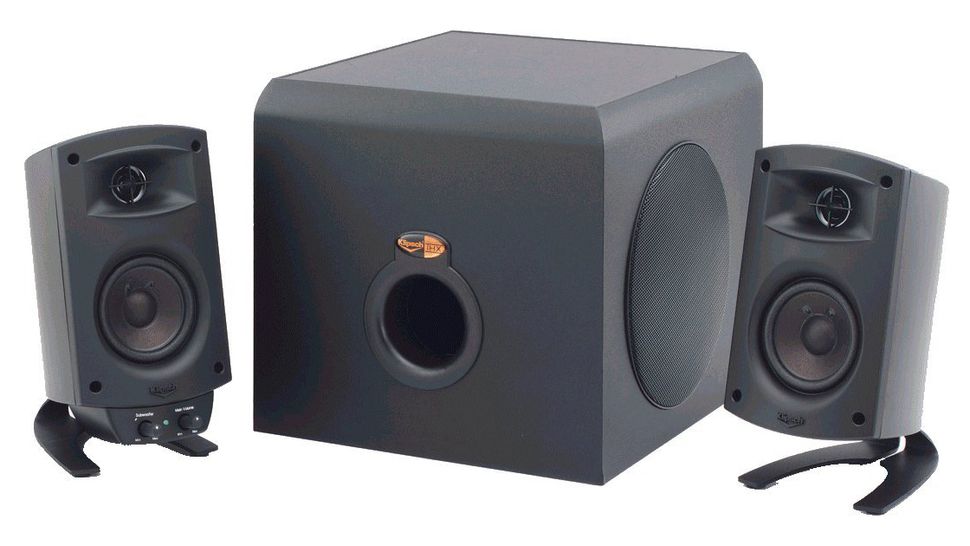 The Klipsch ProMedia 2.1 speaker system offers fantastic, versatile sound. This means regardless of whether you're listening to music, watching movies or gaming, you're getting the best computer speaker experience. These THX-certified speakers boast a lot of power, a wide frequency range of 31Hz to 20kHz, and detailed audio quality with strong bass, maximum clarity and great balance. When we say it's powerful enough to replicate that home theater quality in your living room, we're not exaggerating. The best part is that the price is very reasonable.
This product is only available in the US at the time of this writing. UK and Australian readers: check out a fine alternative in the Logitech Z623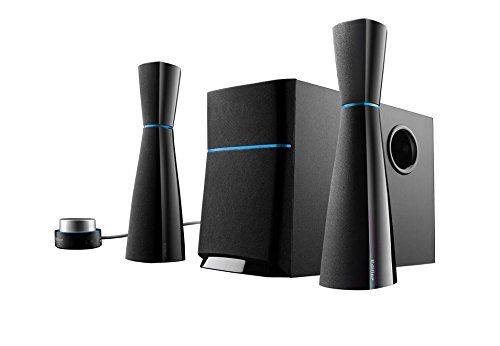 Edifier has always been a trusted name in audio, so it's no surprise that it's making a two-time appearance on this list. Just like the E25 Luna Eclipse, the Edifier M3200 comes in a unique form – that of an hourglass – because why the heck not? And, just like the E25, this audio speaker system boasts audiophile-level sound. It also comes with a magnetically shielded subwoofer with 5½ inch driver for richer, deeper bass whether you're gaming or watching The Witcher. What's more, that price that's less than $100/£100 is perfect for budget gamers.
This product is only available in the US and UK as of this writing. Australian readers: check out a fine alternative in the Jabra SPEAK 510.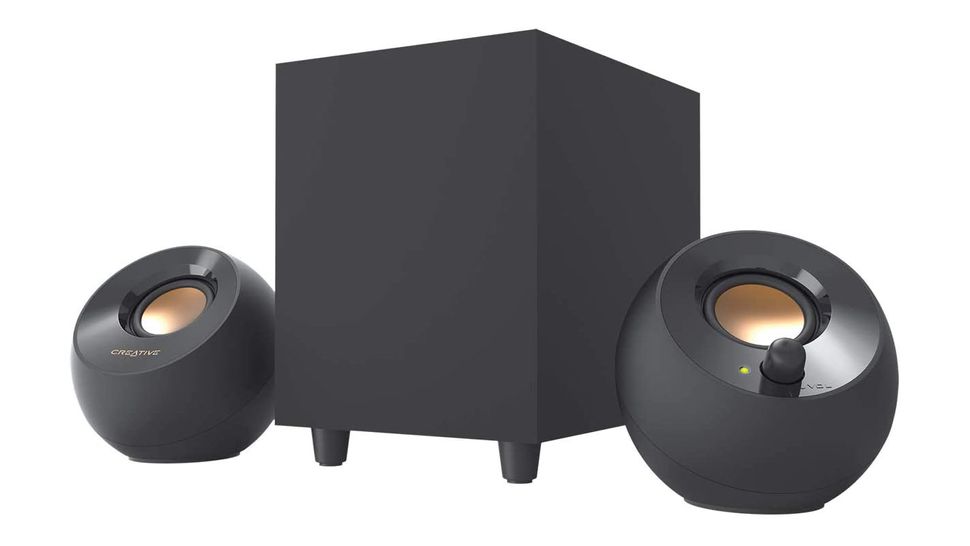 You don't need to spend a fortune on a good set of computer speakers. For the budget-conscious consumers, Creative's Pebble Plus is more than good enough for the job, whether you're a hardcore gamer or a film fantatic. This 2.1 speaker system, which consists of two far-field drivers angled at a 45-degrees and a down-firing subwoofer, may not be audiophile quality, but it produces great sound for how much it costs. It delivers good highs, mids and lows, and it does a great job minimizing distortion at loud volumes. 
This product is only available in the US and UK as of this writing. Australian readers: check out a fine alternative in the Logitech MX Sound.     
Tech specialist. Social media guru. Evil problem solver. Total writer. Web enthusiast. Internet nerd. Passionate gamer. Twitter buff.