Best Gaming Speakers 2018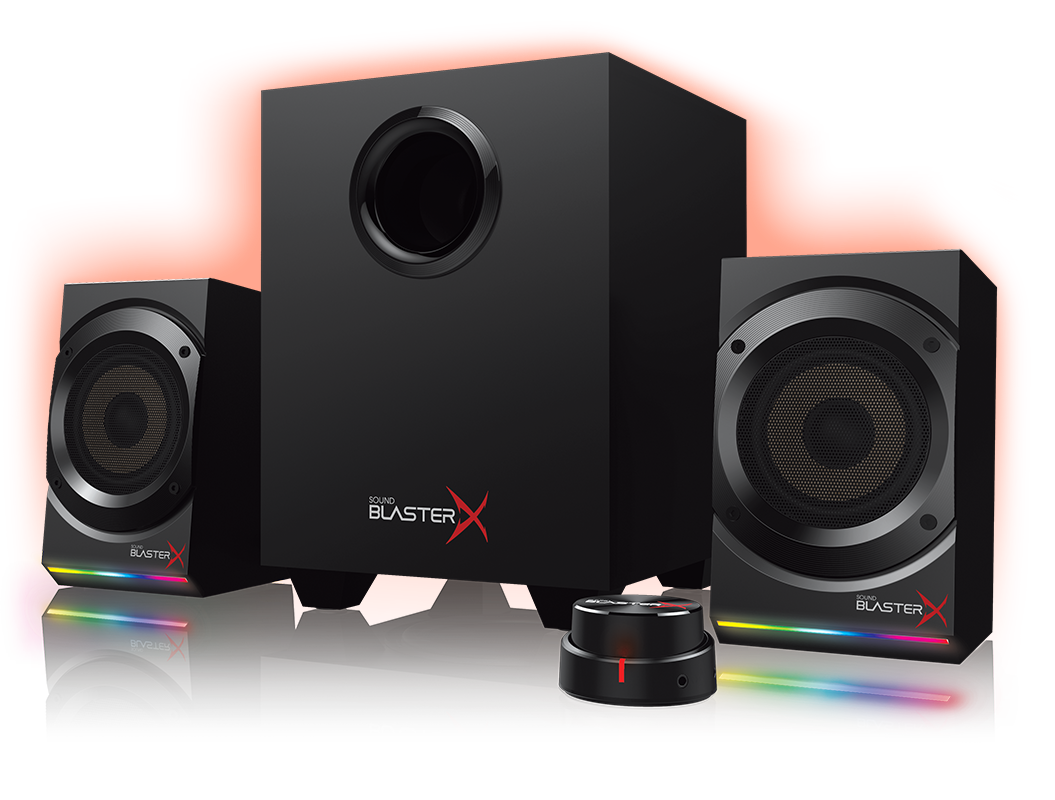 Best Gaming Speakers Of 2018
Quick NavigationGOgroove BassPULSE 2MXAVerMedia Ballista Unity Gaming SpeakersCyber Acoustics 2.1Sound BlasterX Kratos S5Trust Gaming GXT 628AVerMedia Ballista TrinityMARVO Game USB 2.0HTRise USB Powered Computer SpeakersLogitech Z623Cyber Acoustics (CA-3090)Genius SW-G2.1 2000Genius GX-Gaming 5.1Bose Companion 2 Series IIISwans M10Mackie CR SeriesArion Legacy AR504LR-BKIcopter 2.1Thonet and Vander KurbisRazer LeviathanGenius Gaming Speaker SWS-2
Audio is perhaps the most important thing to provide a pleasant experience along with the video.
Some people may prefer to compromise on video quality, but not on audio quality. And when it comes to gaming, you can't compromise a bit on the audio part ever! That high-quality processor, 16GB RAM, expensive gaming monitor and all the other things you meant for that gaming setup will be of no use if the audio part of your setup is not qualifying on the level you need for a good gaming experience.
When it comes to buying a perfect audio setup, your choice must be really good in that sense to complete your whole gaming setup! There are tons of gaming speakers available on this huge platform of e-commerce websites, but do they justify the price for they were brought?
DO they provide a good gaming experience to you, any faulty experience could be a real mess! Obviously, e-commerce websites can help you a lot in sorting some of the best audio setups for you, but we must not forget that internet is a huge world, and to explore it completely and to find the best product match for yourself, you are most likely to spend days banging your head on your screen! Some websites may sort some products by your requirements, but every e-commerce website lacks us in showing the best products that can be purchased under the required price! And most of the e-commerce websites also lack in offering unbiased reviews, which is perhaps the most important thing! Reviews have always proven them to be the money savers for consumers!Taking opinions of some geek experts may sound good, but that's quite messy; isn't it? There are some of the popular audio gaming machines which you may have liked, but that's a quite painful moment when you realize that the price tag printed on that product is beyond your range.
Doesn't matter from which background do we belong or how much that audio setup meant to us, but we all are in search of a decent gaming audio setup under an affordable amount! And as we can't spend thousands of bucks on just an audio setups, as you may have already spent the same on your complete gaming setup. But we can spend at least a decent amount on the audio part of our setup, as to get a quality product we have to spend a little more amount then we would have expected earlier. So if you haven't yet decided your budget, we are going to show you the best gaming audio speakers under 100$! So here in this article today, we won't only show you some of our best gaming speakers product picked under an efficient price of 100 bucks but also the products which we have also find useful in our experience. Products which completely justify the price they are being brought for or just to make that sound easy, value for money!
GOgroove BassPULSE 2MX USB powered speakers with a rear loaded volume control, compatibility with almost all manufacturers with a 3.5mm audio port, red glowing LED base which enhances its glow in the dark; this machine provided you a great audio experience with its especially enhanced bass system! And the best thing you'll find in these speakers is its weight, which makes it a perfect travel audio system if you want! And most importantly it is power efficient, as it does not consume power directly from the wall outlet, but from the USB port of your devices.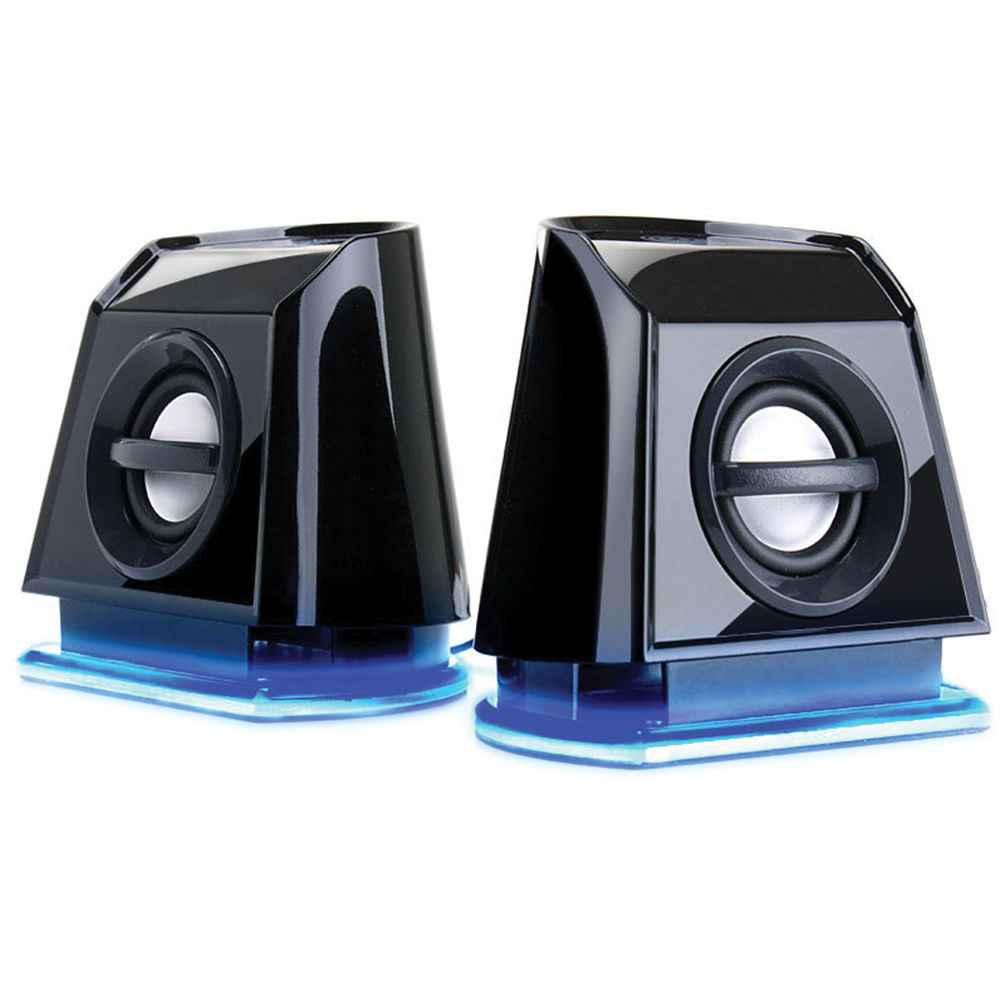 This product works fine in all conditions irrespective of the external conditions! In case you fear from pouring water accidentally on your speakers, then you don't have to bother much about it, as this product is waterproof to certain limitations!
​PROS
Plug and play basic design
SonusMAX sound with enhanced bass technology
CONS​
​Only USB connectivity
Requires the availability of the device to be turned on always
​
Specially designed for gaming, this speaker can be the best choice for all of the gamers on this page! As this product is specially designed by keeping the mentality of gamers in mind, these speakers come with dual channel 2.75" satellite drivers and a custom designed stunner for amazing audio reproduction. With adjustable bass control, this product can be easily accessed! With a basic plug and play connection and mountable satellite speakers with no distortion and a caramel metallic body, these speakers are not just fantabulous in their work but also exhibits a good look when kept at a steady pace.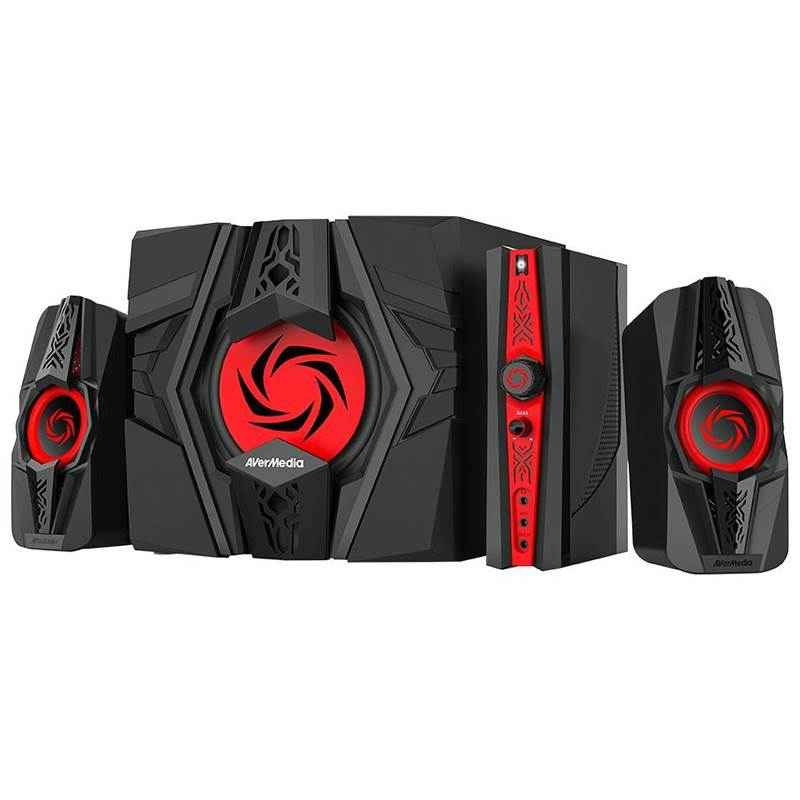 View on Amazon
​PROS
Enhances bass and sound quality
A specially designed 'Assassin Mode' for gamers with low and high frequencies adjustable!
CONS​
Difficult electronic interference
Heavyweight (30 pounds)
With a three-piece strip speakers with a sub-woofer two satellite drivers combined with an amazing bass quality, and with a special aux jack, this product comes in my favorite list because of the amazing experience I had while playing some high configuration games! An already established big name in the field of audio devices, Cyber Accousticshave, made a strong bond of trust between their consumers and themselves! Their cost-efficient products with some unexpected featured under the tagged prices are one the reason that makes the consumers hold trust on them.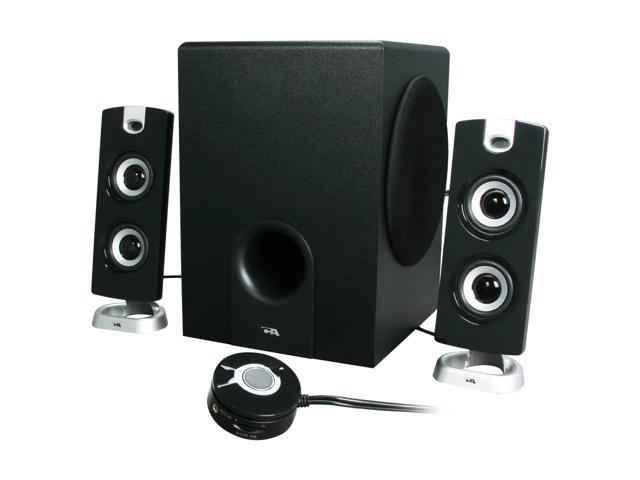 View on Amazon
​PROS
Magnetically shielded satellite speakers
Desktop control power with LED indicator
CONS​
Low Peak Power of 60 watts
Flatly designed panel with no waterproof add-on
Being a specially designed speaker for gaming purpose, it comes up with immersive virtual 7.1 sound system with 96 kHz resolution playback! Keeping the problem of resonance damping in mind, this product is entirely built out of wood. As the product's image would have looked to you, the same service it delivers to you! The enhanced bass technology of SoundBlaster is already well known to the gadget maniacs, so this product comes up with. The best feature about this product is that it lets you connect the dual RCA adapter directly to your LCD TV, Computer or DVD player! With a simple plug and play feature, this product is very easy to use for a newbie. The 4" satellite portable drivers and 6.5" subwoofers create an immense pleasure and joy when played. Kratos S5 delivers much clear and high-quality audio and has much to offer you rather than those plastically designed speakers!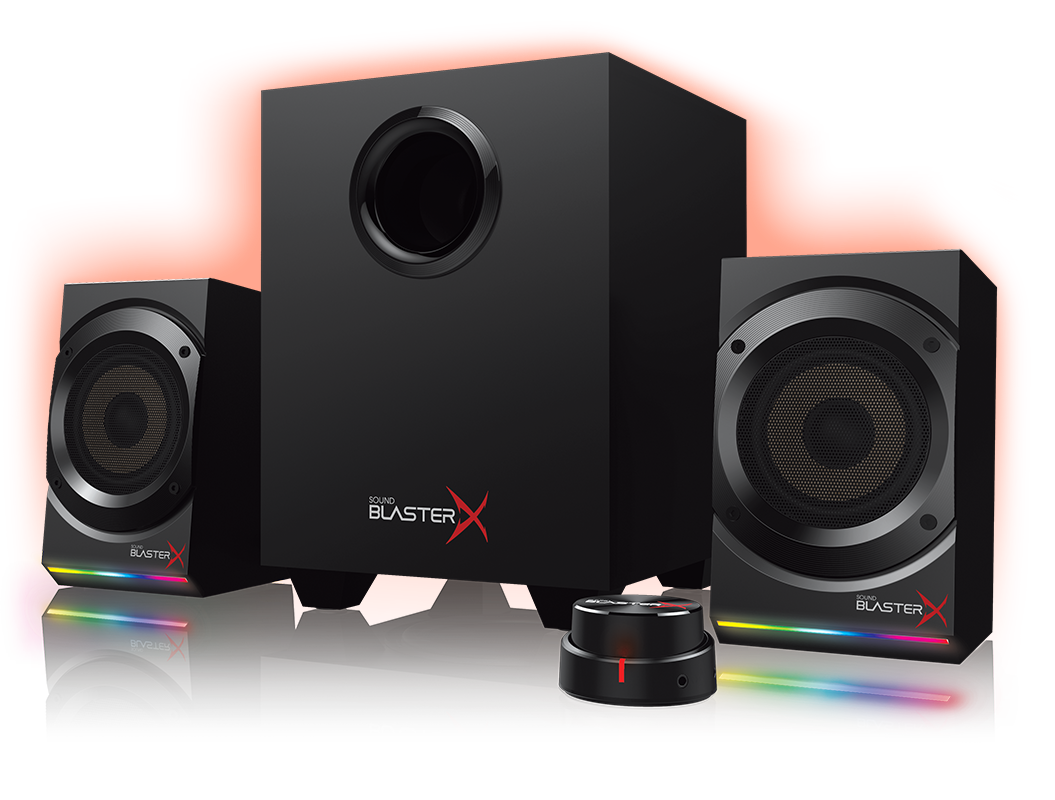 View on Amazon
​PROS
7.1 PRO surround system audio
Access to audio control pod
CONS​
Regional AC Power Cord Plug
Subwoofer could be cranked when turned up to maximum
No optical port
Already being the top-selling European product in the field of gaming speakers, Trust Gaming GXT 628 is the only product which is developed by professional gamers! So you can imagine the level of dedication and the thinking those gamers would have decimated in this product! With a wooden pulsating LED illuminated subwoofer with 120-watt power output! Keeping the power efficiency in mind, these speakers go to standby mode automatically when not in use for more than 5 minutes! These speakers are completely compatible with PCs, Wii, PlayStation 3 and Xbox 360! With deep bass technology, these speakers provided you an amazingly clear and crisp sound.
With a power output 120 watts of peak power, these speakers create a fantabulous wall of sound, and the amazing 7-inch wooden subwoofer produces the bass which you cannot feel in any speakers!
The controlling wired pod could be used by scrolling over the pod to adjust the volume! If you are banging your head on your computer since a long time searching for the best gaming speakers, this could be the best choice for you!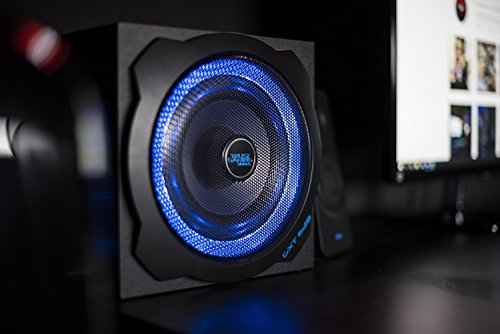 View on Amazon
​PROS
Regional AC Power Cord Plug
Acess to audio control pod
CONS​
No Optical Port
AMD equivalent processor
No Portability due to heavyweight
Still confused? This product might help you by becoming your favorite selection till now! Specially designed and configured for gaming with a peak power of 70 watts and enhanced bass enhancement technology along with the SunMax Sound technology, and the grand three satellite speakers attached to it is a delight for the stunning audio experience! The special Assasin Mode automatically higher or lower the frequencies to enhance your experience in between, the 6.5" dynamic subwoofer produces dynamic bass which completely justifies each penny spent on it! During your experience, you will encounter clear crystal audio which offers less distortion, especially during gaming. The metallic look of the speakers along with the caramel shade on the body provides a decent look to it.
These mid-range speakers are the best thing ever you can accommodate in your budget, maybe for some people the price is quite high, but the amazing audio experience you get in exchange is something which makes you forget about the money you spent on it. Being an established brand in the field of gaming products, AVerMedia never disappoints its consumers by any of the product, so obviously, there is no trust issue against them. The best thing about these speakers is the simple user interface and easy accessibility, seriously anyone can easily learn to use these speakers in few minutes! Not designing the product in a complex way is the reason behind the success of AverMedia. The best thing about these speakers is the multi-input support, which lets you connect many devices like the gaming console, PC, etc. simultaneously to enhance your audio experience!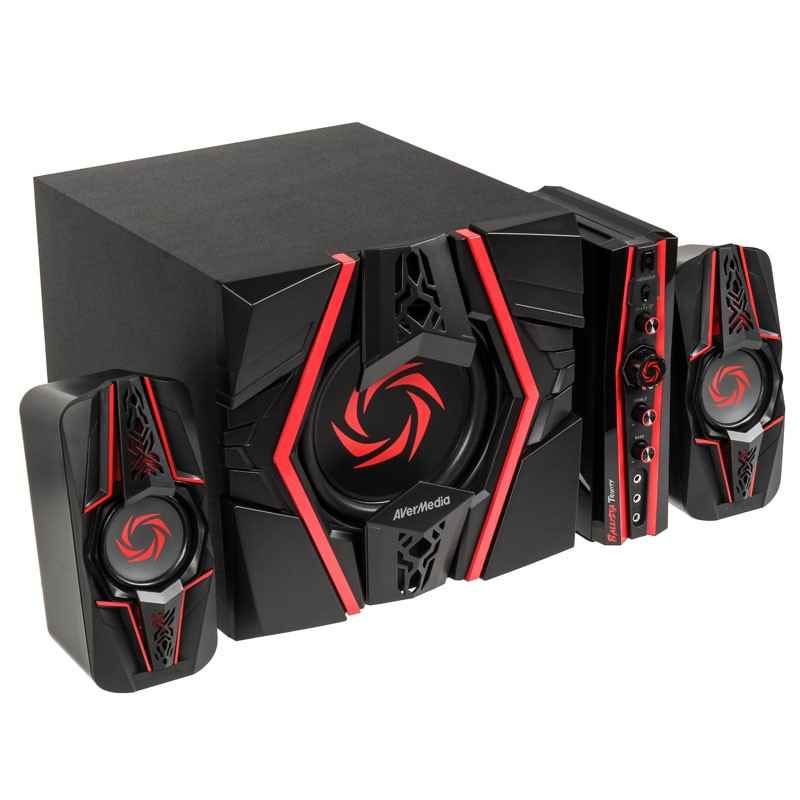 View on Amazon
​PROS
Multi-Input Support
Three-way satellite speakers
Independent control unit
CONS​
2.1 Ch Audio
Sounds distorted on lowering the equalizer
3.5mm speaker RCA
Marvo Game USB 2.0 is probably the best gaming speakers for the people who prefer not to spend much on gaming products! Offering so many amazing specifications under 25 bucks is something which makes this product special for the people having less amount of money in their pockets! Maybe you have compromised on the price you have to spend on it, but Marvo didn't do the same! With the perfect sound system and 3D stereo effects, 3.5 mm audio jack compatible with almost every device and a full frequency speaker unit; this can be the best pick if you are in a tight budget! Marvo is not a big name in the field of gaming products, but they are the priority of most of the consumers when it comes to low priced quality products!
No satellite drivers, No subwoofer, and no Assasin Mode, but what else you can expect for such a low price; they are already offering much more they could've done in that price range. You'll encounter some difficulties while using it as its built quality is quite cheap which makes it difficult for you to understand the systems in a moment, but of course, few weeks would be quite helpful in making yourself compatible with these speakers. The speakers are not portable because of the heavyweight body but can be adjusted easily among small distances in your house. With a wired support using power directly from your wall's interface, it's quite power inefficient.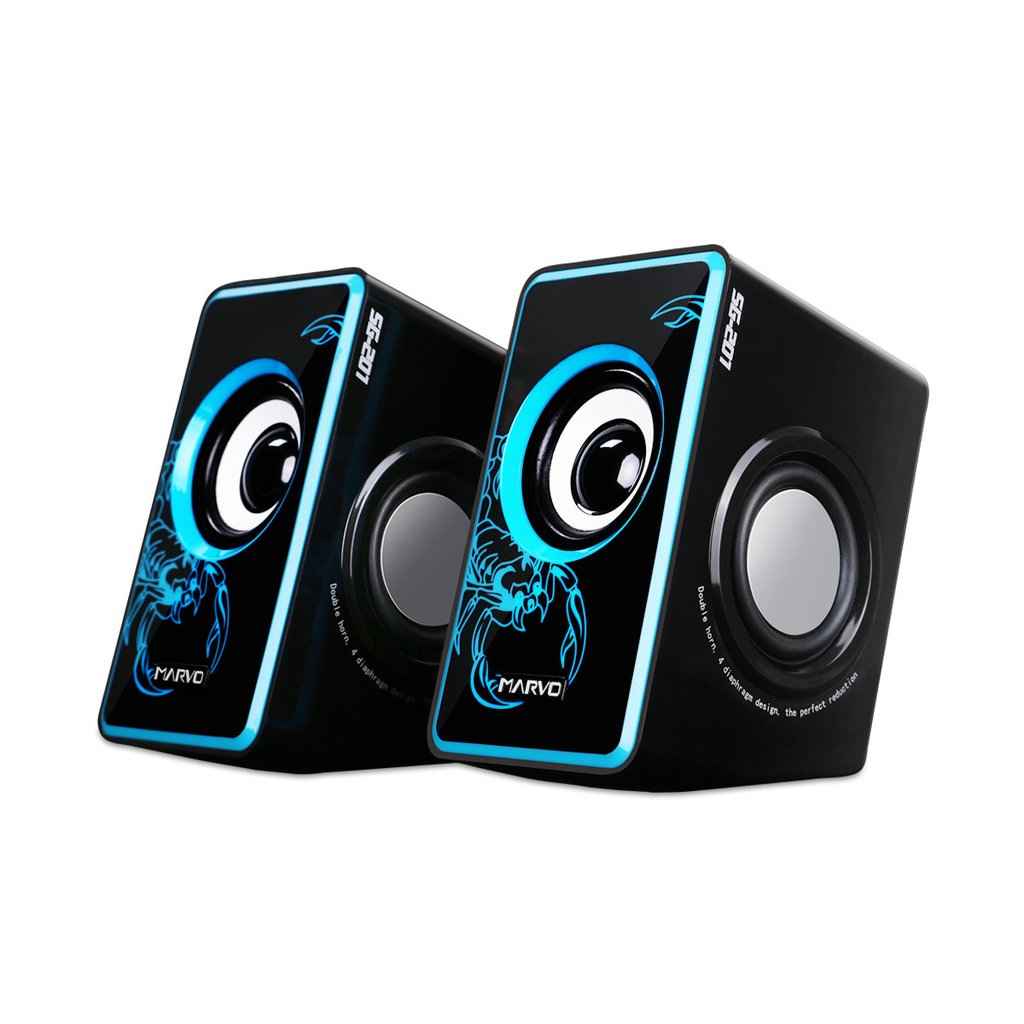 View on Amazon
​PROS
3D Stereo Effects.
7W RMS Power.
High signal to noise ratio.
CONS​
Highly power inefficient.
Incompatibility with Smartphones and tablets.
With excellent sound quality, double vibrating huge diaphragms along with subwoofers of dynamic bass enhancement technology, mountable satellite speakers with two pieces of IC in it which makes treble output crystal clear in poor conditions, and amazing metal look body makes these speakers one of the best gaming speakers under middle price range! 5V DC power and compatibility with almost every device with the help of 3.5mm audio jack along with a special aux cable as an add-on and portability and many more specifications is everything you require in your gaming speakers without any distortion in between in any conditions!
With a basic user interface, these speakers are easily accessible to any consumer with the help of plug and play support! Double vibrating diaphragms on the front and back side are the best things about this product, which when played vibrates to its peak giving away an amazing audio experience. The separate IC control in each speaker along with the subwoofer makes the tweeter sound more accurate which offers crystal clear audio and lower distortion in any conditions!
View on Amazon
​PROS
Dynamic bass enhancement technology.
Two satellite drivers
IC control for more clear audio
CONS​
Radiates heat energy after a long usage
High power usage
The name is enough you know, Logitech has already created a bond of trust with thousands of its products in last few years! Let it be gaming mouses or gaming console; Logitech has never failed to disappoint the gamers by any one of its products! By considering the virtue of the fact that these speakers are designed by gamers themselves, they have not compromised anywhere in any of the qualities by keeping the important points and mentality of gamers in mind. These speakers can drag your gaming life to real life by the amazing clear crystal audio experience and enhances dynamic bass quality!
With a peak power of 200 watts and compatibility with almost every device via a 3.5 mm audio input, these speakers let you connect three devices at each time and makes you explore the audio behind the visuals. So yeah, you can connect your gaming console, DVD player, iPod and many more devices at the same time! With surround, sound technology and two satellite speakers along with a subwoofer is enough to make a big room sound like an Alan Walker concert! And most importantly, these speakers resolve most of the problems by its portability! Yes, you can take these speakers anywhere you want to! While people spend thousands of bucks on the same specifications speakers, these speakers prove themselves as the real example of 'Value for Money; product!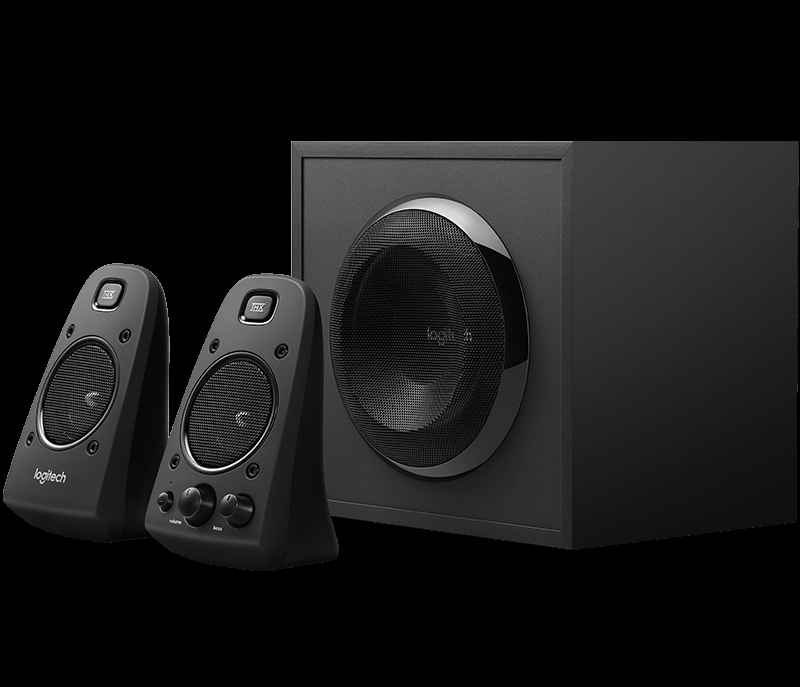 View on Amazon
​PROS
Two satellite speakers along with a subwoofer.
Surround sound system.
Portability and compatibility.
CONS​
No adapters for connectivity.
400 Watts Peak Power makes it power inefficient.
You have already seen the same brand name a few minutes ago with a different model number, which has amazong specifications but you went disappointed as soon as you google the price of that product and found that far out of your budget! That's the real sad moment when you start liking a product, but as soon as you see the price tag on that product; all your dreams you made with that particular product shatters badly! But don't be much sad, as this time it's the same brand name, another awesome product but most importantly, it fits in your budget!
With a peak power output of 18 watts with sound surround technology, specially designed from polycarbonate with a dynamic subwoofer which delivers crystal clear sound and amazing bass with adjustable frequencies! The flat panel designed speakers with metallic look provides a decent look in today;s technical world! With a convenient desktop control pod and compatibility with almost every product via a 3.5 mm audio jack which includes an on/off switch on your fingertips, and an aux cable is a special add-on to the amazing specifications! These speakers directly use power from the wall interface but are power efficient because of the low power output of 18 watts!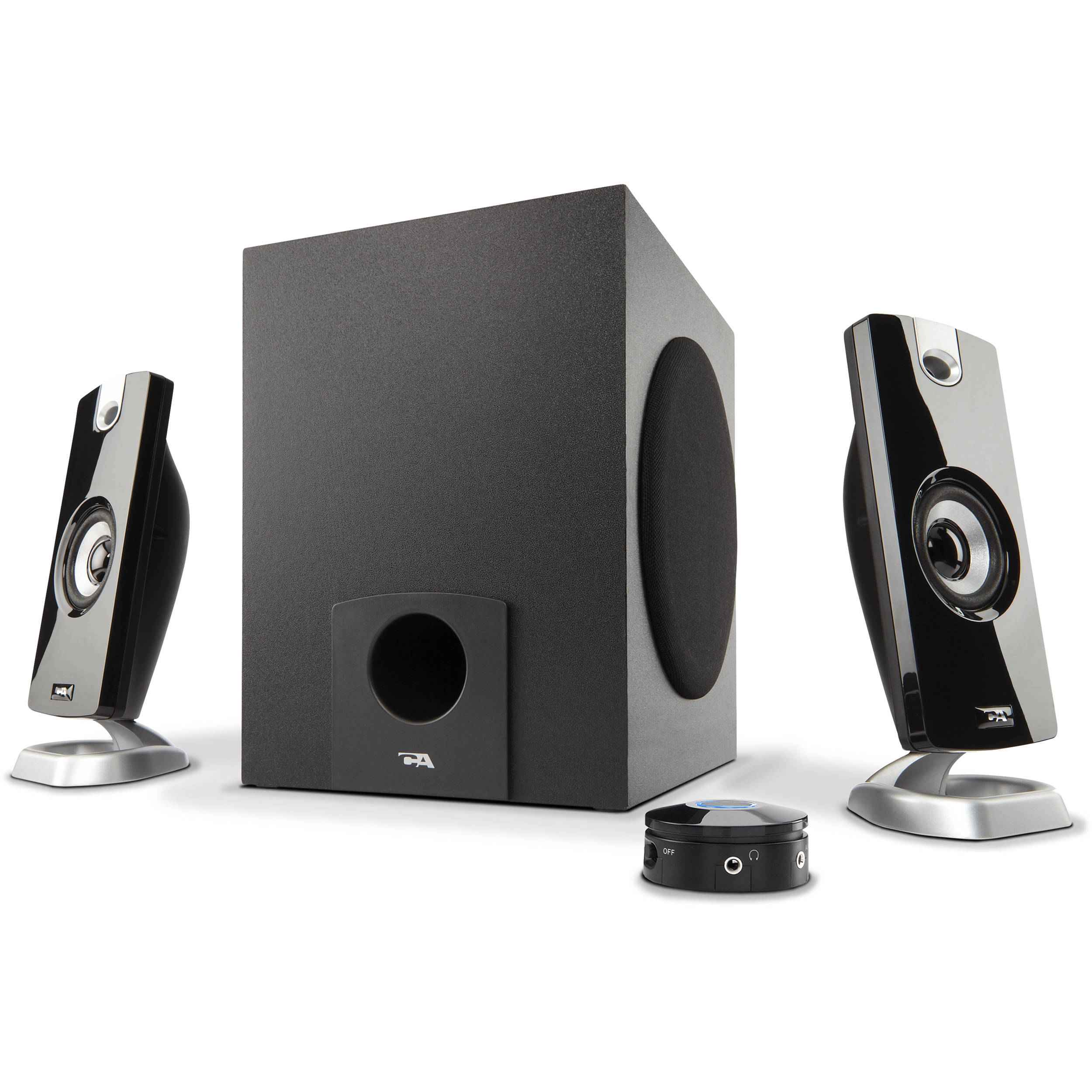 View on Amazon
​PROS
Power Efficiency f 18 watts
Surround sound technology.
Dynamic subwoofer along with satellite speakers
CONS​
Heavy item weight makes it unportable
Providing the most favorable look to the speakers, Genius SW series comes up with a lot of interesting features! Giving a total output power of 45-watt RMS with an ultra-rigid MDF wooden cabinet dynamic subwoofer for better audio quality and frequency adjustments, this model comes up with dual audio input jacks for PC, DVD, Gaming console and much more. Summing up, in short, you can plug in your multiple audio devices at the same time via a 3.5 mm audio jack, this model also provides a headphone jack for better private listening which gamers would love for sure!
In addition to such awesome features, how we can miss the most important add-on, i.e., the satellite speakers! Genius Sw G2 comes up with two satellite speakers for the bass enhancement which giveaway an amazingly crystal clear sound! Especially for gamers, there is a special software which you may download from there official website, which later ouses itself to adjust the frequencies automatically! SO when you play your favorite game on your gaming pc, the sound of that bullet fired from your gu would come with a different frequency than the frequency of your footsteps sound! The amount of joy and lovable you could produce with these speakers are just unimaginable!
Coming up with an easy to use interface, these speakers can be used easily by anyone! With a pulsating LED light bulb in the middle of the main speaker, these speakers create a luxurious feeling to you! The best part about this model is that it makes you feel that you've already spent thousands of buck in it, but the price you paid for it makes you feel joyful!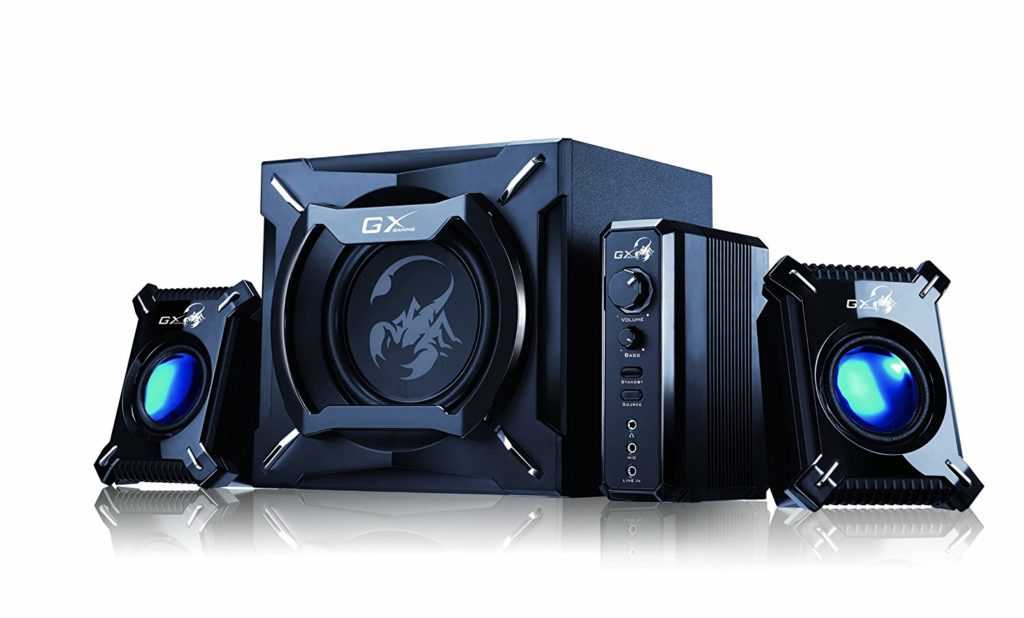 View on Amazon
​PROS
Convenience of multiple audio inputs
Two satellite speakers along with a subwoofer
Compatability with almost every device
CONS​
Unportability because of heavyweight
Low peak power.
Again with the same brand, we now present you more advanced model with a little more price! The main speaker and the other five sub- speakers of this model is sufficient to create a lump through your heart! Coming up with a total peak power of 8 watts and standby mode selection, these speakers come up with 6.1-inch drivers and compatibility with almost every device! With multiple audio input jacks and a special headphone jack for private listening, you can plug in many audio devices at the same time for better audio quality. For the sake of comfort and advanced technology, this model also comes up with a remote control which lets you control the whole system o your fingertips anywhere near the range of 10 meters! 5The tag of 5.1 Ch audio is more than sufficient to create a feeling of excitement among the group of gamers!
With the special sound surround technology, you can feel even the low frequencies audio filling in the whole room in few seconds. No matter if you like western music or metal style, but this speaker can make you fall in love with any song! You can spend the whole day sitting idle in your room just listening to your favorite music; actually, feeling! The special LED light o the subwoofer visualize random colors when the speakers are I use, which steps in to create a pleasurable experience which you can't get with some expensive speakers too! So if you are looking for a powerhouse stereo sound while playing the games, your search should stop right here and you may stick to it as this is one of the best options right now available for gamers.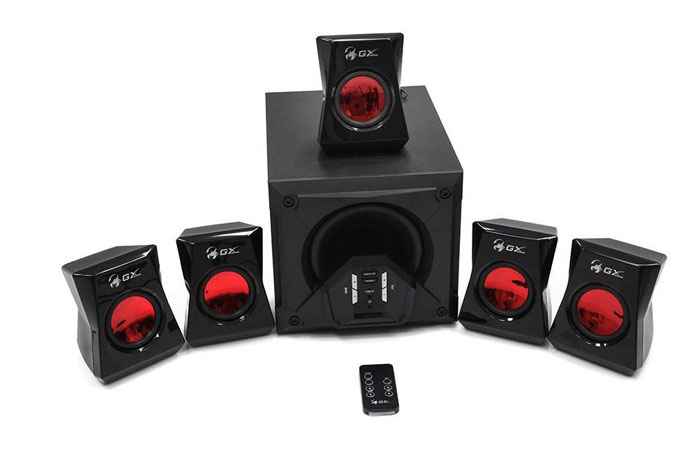 View on Amazon
​PROS
Surround Sound Technology
Power efficiency
Multiple audio input jacks
CONS​
Unportability because of item wright
Sound can be distorting on the use of multiple audio jacks
With a high-quality sound performance and crystal clear audio at any volume with a special auxiliary input for convenience, these speakers are one of the best gaming speakers at present in the market. The best thing about these speakers you will get is the bass enhancement, which is above the expectations as of its price; the bass quality of these speakers is amazing, it does not distort at any volume or in any condition! With an easy to use interface, the product design of this product is not too complex; you might get some problems at first, but it becomes easy to use after few weeks of usage. The auxiliary input allows you to connect your iPad or any device as an audio source for these beast speakers in few seconds.
These speakers provide amazing overall gaming experience, it's not just about any special feature of the product, but the overall performance of the speakers are just above the expectations which somewhat justifies it's price too. As the stereo system of these speakers is designed by TrueSpace Stereo Technologies, it's sound quality seems to extend far beyond the actual speakers in the similar price range. Dimensions and item weight makes these speakers portable which is perhaps the best feature you can get in any speakers. The speakers to speaker cord are 6m long which comes handy when you place both the speakers at the desired distance to experience surround audio! These are the probably the best gaming speakers right now under a decent budget range.So what are you waiting for? Just place your order before this high demand product gets out of stock!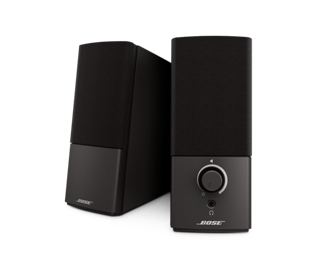 View on Amazon
​PROS
Auxiliary input
Compatibility with almost every device
Headphone jack which can be used simultaneously with the other audio source
CONS​
Requires special care for maintenance, might get damaged when falling from a minimum height
Not only in appearance, but these speakers do perform like a BEAST! The moment these speakers starts playing, not only your ears but your heart also starts feeling delighted as stimuli to the dynamic bass enhancement and surround sound technology which is more than sufficient to create your living room like a concert surrounding in few seconds.
With 2.1 CH audio or two sub speakers, this model of Swans may look small to you; but proves it's worth when turned on! With a 20mm dome tweeter which produces crystal clear audio and sweet treble without any distortion in any audio range and not on forget about the 5" midrange driver punch which emits out dynamic bass quality! With a metallic look and polished molded pearl white faces and the special metal, look cones enhance its appearance which makes it look like a vintage speaker of 60s and that is one of the things which distinguishes Swans M10 from other ordinary speakers.
Compatible with almost every device and permittivity to connect multiple audio sources at the same time, doesn't matter whether these speakers are connected to your PC on standby or your iPhone or Macbook, the sound quality it delivers is just amazing, which is perhaps the most important thing you paid up for. The thing which I liked the most about these speakers is that the bass quality and treble did not distort for a second at ay external condition. These speakers are an absolute delight to the gamer With small dimensions and low item weight; you can carry these speakers to wherever you want to enhance your audio experience, actually, it convinces you too for the same! So better place your order right now, before this highly rated product gets out of stock!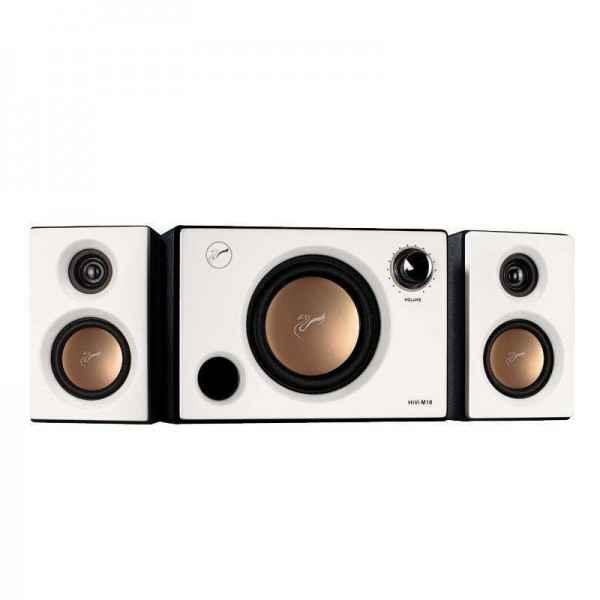 View on Amazon
​PROS
Portable
Power efficiency.
Surround sound technology
CONS​
With studio quality design, the sound it produces is just way more than that of the studio and perfect for multimedia purposes, not only for a particular use. Gamers can rely on this product as the primary audio source for gaming as it comes with ultra-wide frequency range which covers up the whole area it places which is perfect concerning the gaming.
Mackie has worked a lot on this product after few bad responses from the consumers on the previous products, but this one has gone way too good than the other ones making it a tough competitor for other gaming speaker's manufacturing companies at present! Along with the volume knob with Cr3 convenient speaker placement switch, you get a convenient front panel volume knob with lit power ring which gives them access to turn the speakers on/off or control the volume and power indication whenever you require. Mackie has tried their level best to provide comfort to the consumer in the overall audio experience, which most of the companies lack in.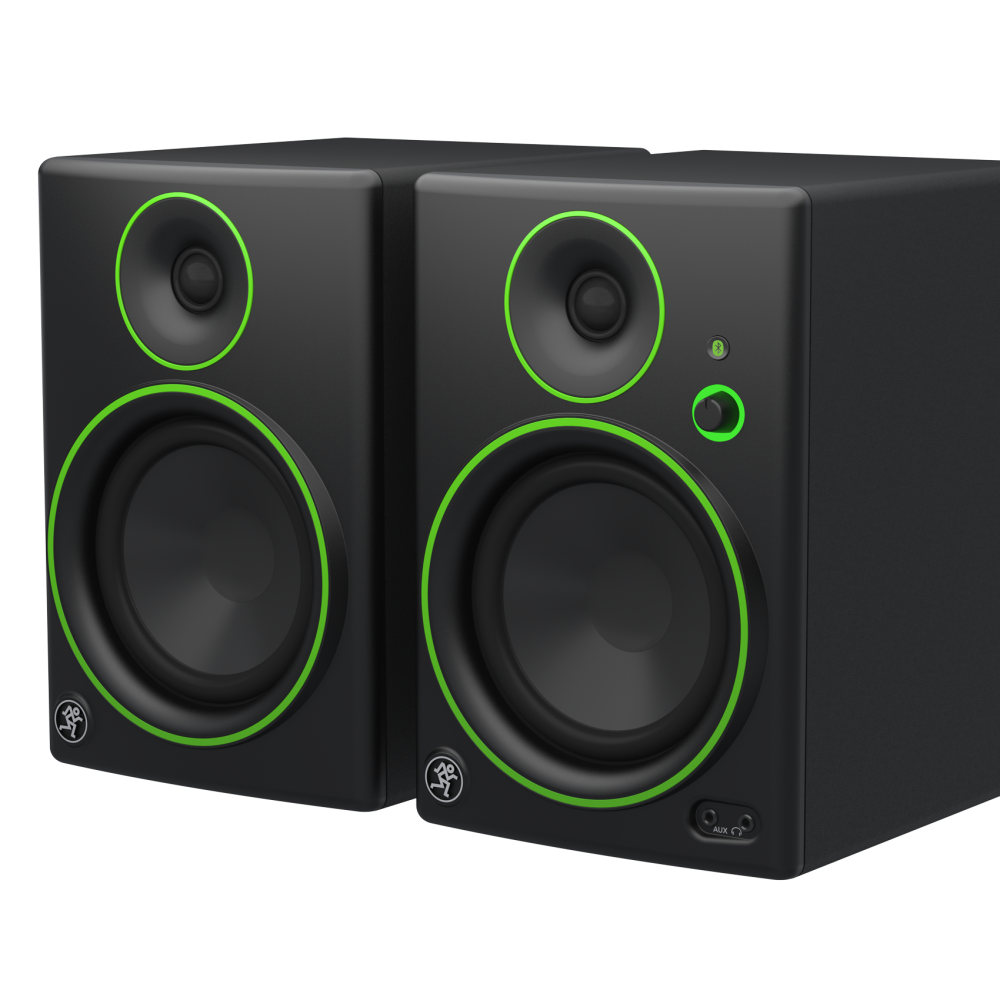 View on Amazon
​PROS
Compatibility with most of the devices.
Ultra wide frequency range.
CONS​
Bass distortion on high volumes
Absence of multiple audio inputs
With a full spectrum sound technology ranging between 20 Hz to 20 kHz and dynamic bass enhancement technology, these speakers fit ps perfectly for gaming. Not only for gaming, but these speakers can also be used for various multimedia purposes, and can be accommodated anywhere easily. With one subwoofer and 2.1 Ch audio quality, these speakers can upgrade your living room with two tweeters, four woofers and one subwoofer contributing a total output of only 70 watts.
Along with these internal specifications, you get one remote control too, with the help of it, you can easily control your speakers on all the aspects in the range of 10 meters. The best thing about these speakers is the build quality, all the pieces of speakers are constructed with high-quality MDF for enhanced audio output which delivers an amazing overall experience later on. With multiple audio inputs and one 3.5mm audio jack, you can connect various audio sources at the same time according to your preferences. In addition to all these, you get a LED mounted o the main speaker which pulsate with different colors when played which looks not less than a delight to a human eye in the dark!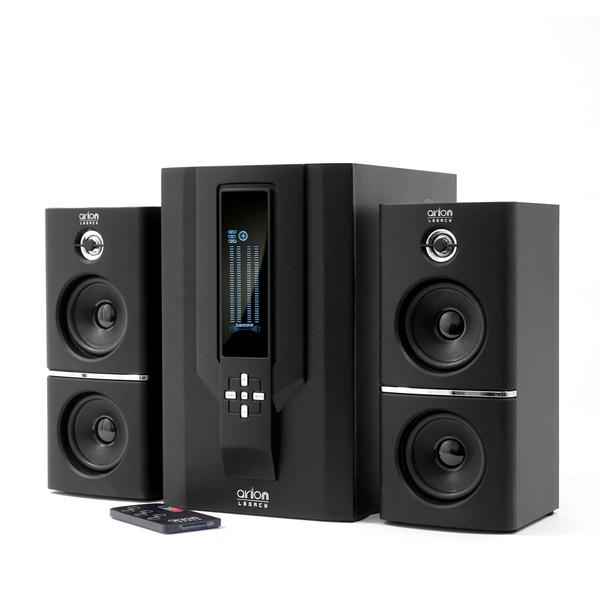 View on Amazon
​PROS
Medium-Sized Home speakers.
Remote control sensor.
Dynamic bass quality
CONS​
Audio distortion on high volumes
With a peak power output of 20 watts, this audio system consisting of3 piece stereo with subwoofer are decent quality speakers in a low range budget! The two satellite drivers along with the main speaker serve as a major producer of dynamic bass quality and crystal clear audio with almost no distortion at any conditions possible! The 5" Power Pro series side emits firing audio quality, not keeping the other useless factors in mind, Icopter has designed these speakers as a sufficient, dependable product consisting of the important things required only that too on a low budget! So you can't expect the specifications of a high budget speaker any day with this one, as it is a unique one in its price range which makes it incomparable to the others. With an RCA and 3.5 mm audio inputs, you can easily connect various audio devices as a primary audio source at the same time to enhance your audio experience. The special subwoofer acoustically tuned in a wooden cabinet serves as an add-on to all these specifications. SO if you are looking for a low budget gaming speakers, this can be the best pick for you!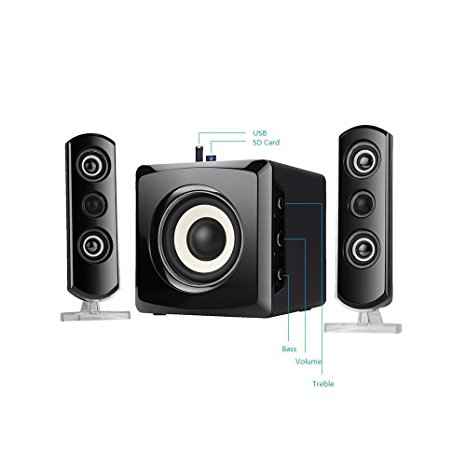 View on Amazon
​PROS
Peak power of 20 watts RMS
Subwoofer with dynamic bass quality.
Multiple audio inputs
CONS​
Unportable because of heavyweight
With the Bluetooth feature, you can connect your mobile or any other device directly with the audio source. The manufacturer claims zero percent distortion at any condition, which may sound unbelievable but yes, it's true! That's one of the factors which makes it the best selling gaming product of the last year. The drone fx simplifies the range from 20hz to 20 kHz which fills in the room totally with the sound in no time! The bass quality is also above the expectations, and the subwoofer along with the portable satellite drivers produces crystal clear audio with high-quality treble and no distortion at all on any volume range.
The wooden Bluetooth speakers created with the high-quality natural polymer of high-density coloration makes it a rigid material, and the subwoofer entirely made up of wood provides a decent look at the speakers unlike the other speakers of the present time. The upper suspension ring of the subwoofer is made up of complete fiber which makes it unbreakable, in case it falls from a considerable height.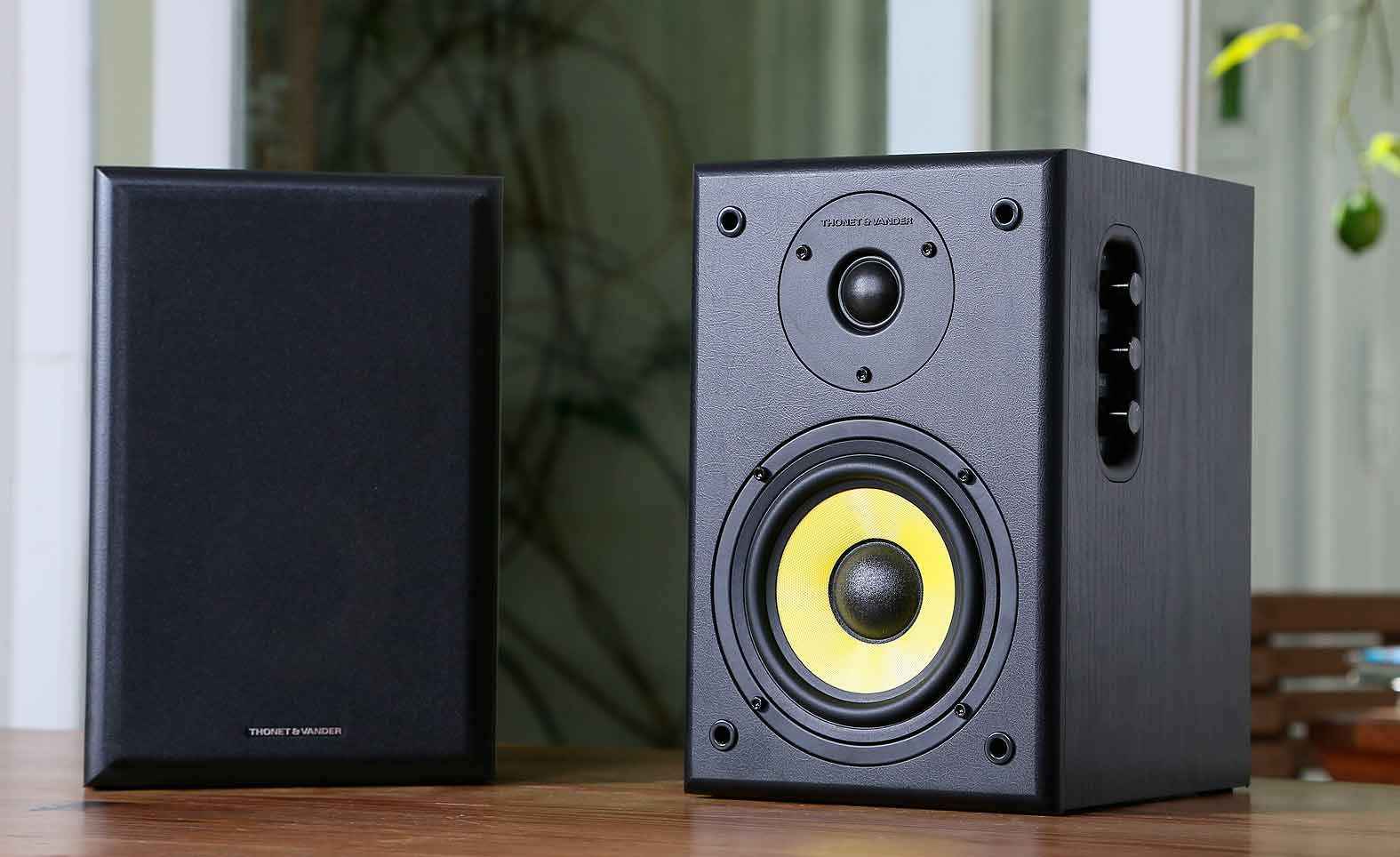 View on Amazon
​PROS
Bluetooth connectivity.
No audio distortion.
Amazing build quality.
CONS​
The Dolby sound tag is enough to attract any person looking up for good quality speakers for multimedia purposes, but these serve much more specifications more than just the Dolby Audio Tag! Featuring the award-winning aptX technology, the Razor Leviathan comes up with the Bluetooth feature which lets you connect multiple audio devices as the audio sources at the same time.
The NFC technology allows for super fast Bluetooth pairing and automatically connects to the earlier remembered devices. The 5.25" subwoofer produces dynamic bass quality and crystal clear audio with almost no distortion except at high volume. The frequency range lies between 20 Hz to 20 kHz. The two full ranged drivers and tweeters produce distortion free lower frequency audio.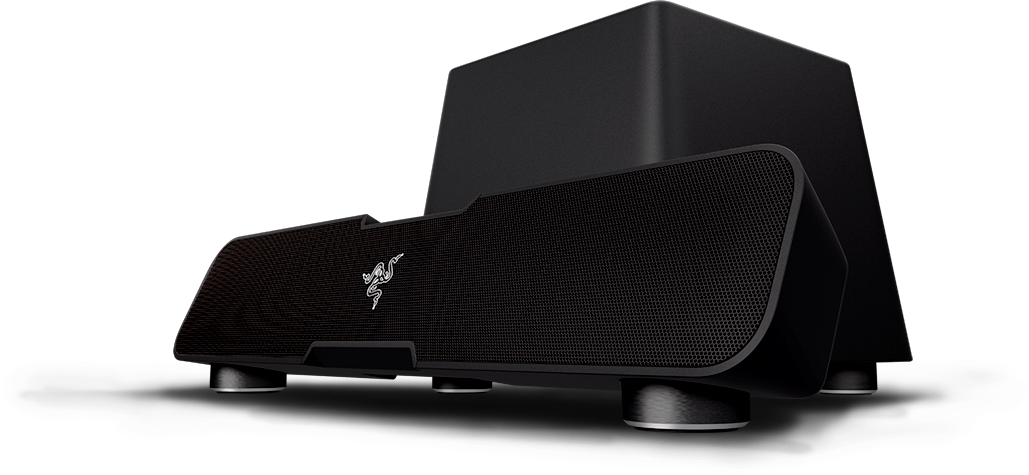 View on Amazon
​PROS
The 5.25 " subwoofer.
Dynamic bass quality.
Dolby Sound Technology.
CONS​
Audio distortion at high volumes.
These speakers are an absolute delight to the gamers as it' suits perfectly for gaming. The 2.1 Ch channel with 15-watt RMS, the wooden subwoofer produces a dynamic bass quality with crystal clear audio with no distortion in between. The alternating current powered wired speaker and plug and played support; these speakers are made on easy to use interface.
Being compatible with almost every device, these easy to control speakers comes up with a built-in amplifier IC which produces deep bass to great extents! The convenient tone controllers adjust the frequencies automatically in the different situations which is the most suitable specification required for a rich gaming experience. The low item weight makes these speakers portable and can be carried easily nearby!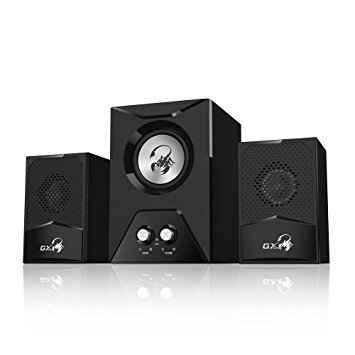 View on Amazon
​PROS
Distortion free audio.
Built-in IC amplifier.
Portability.
CONS​
Tech specialist. Social media guru. Evil problem solver. Total writer. Web enthusiast. Internet nerd. Passionate gamer. Twitter buff.
Xiao has changed plans, now have to recharge with so much money for 84 days, See full list
Hello friends, I welcome you once again to all | Telecom industry in this timeIntense competition has made the environment and considered favorites corporate customersThe Reliance Jio to call on the exclusive network last October 9, 2019Tea Taking started to | We tell you that customers other6 money to make calls over the network will incur charges Aiyusi per minute |
Also Xiao move which has also introduced some other Aiyusi Plan Reliance JioThe current plan Recharge you can | Xiao new to your customersRecharge KIC plan also added | To the call to the customer to the networkTend to be used for | Will only have to recharge Aiyusi | That ifYou have the most popular plans Rs 399 on Xiao number and ₹ 399 with planYou to call other network ₹ 10, ₹ to 20, ₹ 50, ₹ 100 to ₹ 500 ofRecharge were introduced vouchers that can use all the planet |
We tell you that if you ₹ want to recharge the 10 | If you Rs 399The plan ₹ be recharged with 10 | That the cost of this plan ₹ be 409Is and it is the top plan ₹ 1000 | Which can all customer useAre | We tell you that Xiao facility provided to its customersBut Xiao said ₹ 222, ₹ 333, ₹ 444 to ₹ 555 new plan is also offered | ThereAiyusi recharges made of does not need |
Friends that you Btaiaga we must in the comment box you who plan to liveWe do like and like to such interesting and interesting information andMake sure to follow | Thank you
All plans have changed Jio, now so depreciation charge is 84 days, View full list
The telecom industry is currently made up environment of tremendous competition. CustomersFavorite company Reliance Jio other from last October 9, 2019 consideredCalls on the network began to take charge. So, now live customersThe charge IUC rate by 6 paise / minute for calls to any other networkHave to pay. Also now live has introduced some new IUC plans.Which led to a change in the geo-existing plans.
So will charge 84 days
The Geo add the IUC plan new charge to customersHave given. However, customers who want to make calls to other networks onlyWill have to IUC recharge. The live, even if you live your numberThe most popular 84 days with 399, you also shall be charged Rs10 must be with an RS IUC recharge. Ie you Rs 409Recharge will benefit the plan with 84 days.
Also live 10, 20, 50, 100, 500 and IUC voucher of Rs 1,000Are provided. In which the customer has all the minutes to other networksWill. Can be used to live customer will be able to call on other networks.
If you want to charge a higher call minutes it also rechargesWhen you can see in my Live app. If you do live calls LiveIs it does not give you money for it.
Also to call landline Geo company no chargesWill. Also calls by the messaging app via the InternetGeo does not take a fee.
What if you also provide a charge with 84 days Geo Yes Like and followOr comment down below.
3 The stylish phone with 64MP, the first number everyone favorite!
The smartphone market has started megapixel war once again. Every timeLike this time also the megapixel war started to Xiaomi Company and the correspondingBack Realme company is also engaged. Yes Friends Xiaomi company by the Chinese last dayMarket Redmi Note 8 Pro was launched with 64 megapixel cameraHas been and also call ahead of Realme company Realme XT 64Come with megapixel camera. In today's post I will give you threeTell you about the smartphone will come with a 64 megapixel camera.
1. Realme XT
Well Realme company has yet to launch the phone. But the tech UtubrSome phone review unit has already shipped. Seems to suggest that it is callingComes with a 64 megapixel camera. But the 64-megapixel cameraNamed Realme company was fooling the public. Because Realme XTWas 48-megapixel sensor, but have 64-megapixel camera in Pro modeCan take photos. Your 48-megapixel image so means that sayDrawn will but the image pixels increased 64 megapixel camera cameraAs will be. Also large quad camera, 4000mAh phone RearBattery, Qualcomm Snapdragon has 712 processor.
2. Redmi Note 8 Pro
Well Xiaomi Company has made a fool It's true 64 megapixel onSensors began. Also it is the first phone call world that MediaTekG90T comes with the processor. 6.53-inch full HD IPS Plus LCDDisplay, 4500mAh large battery, 20-megapixel selfie camera and MediaTekG90T's processor, which is a gaming processor. As well as phoneFeatures such as liquid cooling is also given. Let me tell you now call it just ChinaHas been launched and is very soon to be launched in India.
3. Samsung also bring 64MP camera phone with
By clicking on the Follow button yellow color make us must follow.